Building modular walls becomes quick and easy with our frame options. Create a noteworthy exhibition booth with fabric, panels, or a combination of both.
High-quality light boxes are an essential element in tradeshow booth designs. State-of-the-art LED technology delivers smooth lighting and a touch of intensity for your visuals!
Give your tradeshow booth the finishing touch it deserves with the right finishing profiles. From angular designs to rounded edges—we always have the perfect solution ready to go.
Achieve an architectural look by using structural profiles to add a touch of prestige to any tradeshow booth. These profiles are easy to combine with our other frame options.
A reception counter with a smooth finish, an iPad stand, or a practical display? Our collections of exhibition booth furniture and display solutions deliver the perfect final touch every time!
Elevate your tradeshow booth with the perfect flooring system. Our floors are easy to install, cleverly conceal cords and wires, and are available in a wide array of finishes!
Double deck
Our double deck systems instantly create more space in your tradeshow booth! The Flexdeck is 100% modular and allows perfect integration with other Aluvision products.
Draw attention to your exhibition booth with an eye-catching 3D element. These structures can be used as standing elements for a product presentation or suspended over your booth as an impressive visual statement.
Getting started with Aluvision products quickly and easily?
Our starter kits are the perfect first foray into modular tradeshow booth designs. They contain all the basics for modular tradeshow booths and can be reused and reassembled again and again. Want to expand your kit after a few years of use or add a unique element for a specific tradeshow? The kits are designed to be expandable!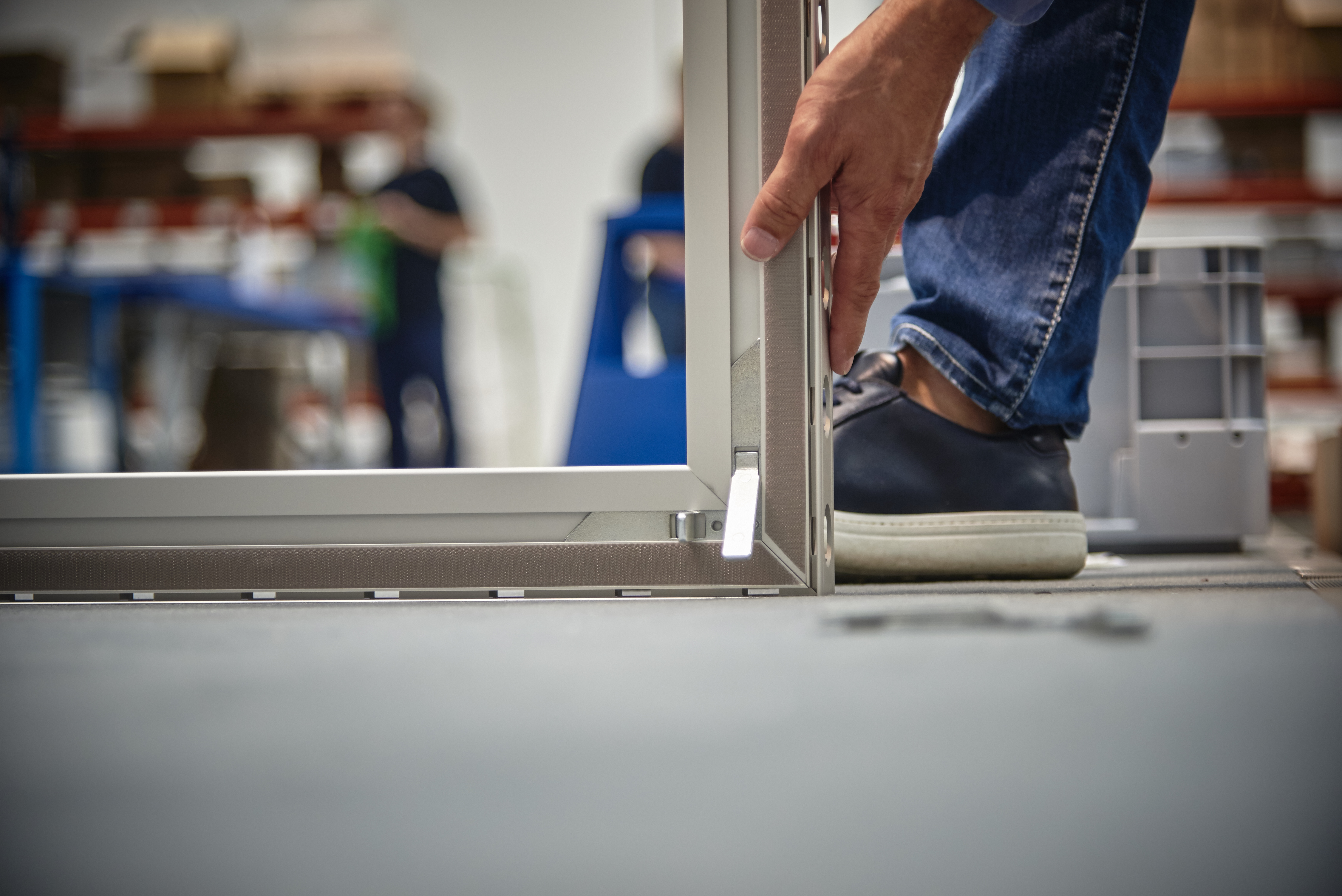 Modular and high-quality elements for tradeshow booth designs
Aluvision is your specialist when it comes to building premium tradeshow booths. Our trade secret? All Aluvision products are modular and combine with ease for uniquely creative results. We select only the most durable materials, making our modular tradeshow booths easy to assemble and dismantle again and again. Our innovative plug-and-play system is the key to that ease of use. Any Aluvision tradeshow booth is designed for tool-free assembly. How about adding a real eye-catcher to your exhibition booth? Explore our easy-to-use LED tiles! We are the leading point of contact for tradeshow booth designers and enjoy connecting companies with reliable partners in their area. Another option is tradeshow booth rental through one of our rental partners. Minimal investment, maximum effect!